International Education Overview
iLearn welcomes students from all around the world who have a valid Canadian study permit. Create a flexible study schedule while you experience everything Canada has to offer with iLearn's online classes.
Can I start my course from another country?
Students are welcome to check their eligibility and get started early, however the student must be in B.C. Canada for all exams.
Where can I find iLearn's tuition rates for international students?
Please see our Tuition page for the most up-to-date tuition information.
Can I take your online courses and still stay at my existing school?
If your other school is a B.C. school, then yes you are welcome to cross-enroll with us and either take a couple courses or take all your courses with us. It's entirely up to you. 
How do I meet with my teacher?
All meetings with teachers will be held via video conferencing (Zoom and/or Google Meet). Students will be invited to class and/or drop-in sessions via Google Calendar.
Students can sign up for office hours using their teacher's Calendly link, which can be found on their syllabus and in their teacher's email signature. Under normal circumstances, students can meet with their teacher and attend class in person at our brick and mortar location.
Do you provide any university planning support for students?
Our team is prepared to create an education plan that helps high school students understand the requirements needed to be admitted to their desired post-secondary program.
How to Get Started
First, we need to know if you are eligible for your courses. Eligible students will be emailed with application steps to complete. Once all steps are completed, each student will be invited to an orientation with their teacher.
Eligibility
Submit your eligibility information online.
Application
Follow steps provided in your eligibility email.
Orientation
Meet your teacher and start the course.
Check Eligibility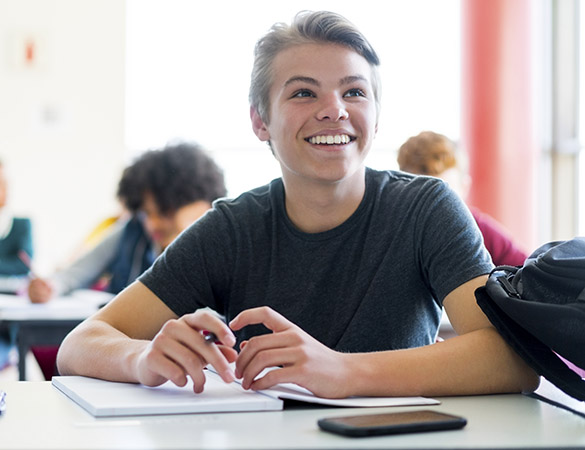 When I started at iLearn I was much more impulsive, anxious, and socially awkward. After iLearn, the exposure to new people and situations with proper mentorship helped me excel. I experienced a very comforting environment with supportive staff members who let students work at their own pace. I left iLearn feeling at ease about my future. By focussing on my strengths, it allowed me to shape the experience and prepare myself for the real world with confidence and a smile.
Asad
Student