Grade 10 Overview
Students take ownership of their education and begin to ask themselves what elements of school inspire them. Students build a unique plan to help the individual enter an honest journey inwards, reflecting on their skills and intellect. Grade 10 is best experienced with an introspective mindset as students take steps toward a grad program that shapes future career opportunities.
Courses We Offer
Online curriculum, progressive course options, and a personalized learning plan allows our teachers to focus on a student-centered teaching style. By offering all resources digitally, students have 24/7 access to their educational content.

See Graduation Requirements
Bhangra 10
This course is an introduction to the popular South Asian dance form, Bhangra. Students will learn and perform modern and traditional choreography. Students will learn about the foundational movements that Bhangra is based on, along with the history of the dance. Students in Bhangra 10 complete choreography projects and participate in live performances. In this course students will:
Explore the interplay of movement, sound, image, and form to convey meaning
Express meaning, intent, and emotion through movement
Express personal movement preferences, cultural identity, perspectives, and values through individual and group movement compositions
Make personal and community connections through dance
Composition & Literary Studies 10
Prerequisite: English 9
Preparation for literacy 10 assessment
Read and study compositions by other writers and practice a variety of styles, varied structures, and writing forms. This course is the final recommended course before taking the literacy assessment. The course is broken down into two main sections: Composition and Literary Studies.  
COMPOSITION 10 (2 credits)
narrative, expository, descriptive, persuasive, and opinion pieces

planning, drafting, and editing processes

writing for specific audiences and specific disciplines

how to cite sources, consider the credibility of evidence, and evaluate the quality and reliability of the source
LITERARY STUDIES 10 (2 credits)
genre-specific studies—poetry, short stories, novels, drama, graphic novels, children's literature

Canadian literature

First Peoples texts

thematic studies

specific author studies
Cosmetology 10
We all want to look our best, but did you know there is actually a science behind cutting your hair and painting your nails? In Cosmetology 10, you will learn all about this often entertaining field and how specialized equipment and technology are propelling our grooming into the next century. Just like all careers, cosmetology requires certain skills and characteristics, all of which are thoroughly explored in this course. You will learn about various beauty regimes related to hair, nails, skin, and spa treatments, and discover how to create your own business model quickly and efficiently while still looking fabulous, of course!
Course Highlights
Examine the common tools and technologies used in cosmetology
Explore careers in cosmetology
Learn basic techniques used in cosmetology
Investigate how to care for hair, skin, and nails
Dhol 10
This course provides an introduction to the popular South Asian drumming called, the Dhol. Students will learn the history and origins of the Dhol. They will also learn the proper playing technique to create Dhol beats. In this course students will:
Express meaning, intent, and emotion through music
Perform in large ensemble, small ensemble and solo contexts
Explore music that reflects South Asian culture, stories, and values
Make connections with others on a local, regional, and global scale through music
Entrepreneurship and Marketing 10
What comes to mind when you think of "marketing"? Perhaps a familiar television jingle plays in your head? Or maybe you think of those irritating sales phone calls? There's no denying the sheer magnitude and power of the marketing industry. Every year companies spend approximately $200 billion promoting their products and services – and that's just in the United States! You may be familiar with being on the receiving end marketing, but what's it like on the other side? In Advertising and Sales Promotions, you'll see how these marketing campaigns, ads, and commercials are brought to life and meet some of the creative folks who produce them. You'll learn about different marketing career opportunities and discover ways to be part of this exciting, fast-paced industry.
Course Highlights
Research careers in the advertising and marketing fields.
Explore how companies use advertising and marketing to sell products.
Evaluate different strategies for selling products.
Learn how to use persuasive sales techniques.
Journalism 10
Are you someone who likes to get the story straight? Do you always want to know more? Who? What? When? Where? How? These are the details that make for a great story. Knowing how to find these key facts and then write them up in a way that makes it easy for others to read about it is the skill of a true journalist. In Journalism 10, you'll learn how ask the right questions, look for the details, and find the story in any situation. You'll learn how to gather information effectively, organize ideas, format stories for media production, and edit your articles. Get ready to break that news!
Course Highlights
learn how to format stories for different media
investigate how to gather information about events and issues
examine how to organize and edit the information you gather
explore how to create engaging, impactful stories
Mathematics 10 – Workplace Mathematics
Prerequisite: Mathematics 9
Workplace math focuses on the foundational concepts used commonly in everyday life and in the workplace. Topics in this course include the following: 
create, interpret, and critique graphs

primary trigonometric ratios

metric and imperial measurement and conversions

surface area and volume

central tendency

experimental probability

financial literacy: gross and net pay
Public Speaking 10
Building on the prior prerequisite course, bring your speeches to life by learning about body language, vocal, and other techniques. Learn about logic and reason while gaining the confidence to help create and deliver great presentations and speeches. You will also critically examine your speeches and presentations and those of others to improve upon your presentation.
Reading and Writing for Purpose 10
This course introduces useful, real-world information by having students learn to read legal, insurance, employment, and vehicle related documents. Furthermore, students will explore media bias, trends in journalism, word structures, and research strategies. To entrench real-world applications, students will learn how to critically read, identify good sources of information, and create an outline, making this course an asset to building life and study skills.
Course Highlights
Learn real-world applications for your reading and writing skills.
Explore, research, and analyze the information around you.
Gain experience with work, health, and financial documents.
Solve problems using your reading and writing skills.
Social Studies 10
Prerequisite: Social Studies 9
Understanding where we came from provides us with perspective on how far society has progressed and the political systems we have developed over time. This course is intended to help students understand the progress of Canada as a nation through the years 1914 to present day. Topics in the course include the following: 
government, First Peoples governance, political institutions, and ideologies

environmental, political, and economic policies

Canadian autonomy

Canadian identities

discriminatory injustices such as the Head Tax, the Komagata Maru, residential schools, and World War I internment 

advocacy for human rights, including findings of the Truth and Reconciliation Commission

domestic conflicts and cooperation
international conflicts and cooperation
Career Life Education 10 (CLE 10)
Everyone has a place in society and career exploration is vital to finding the right fit for your skills and life aspirations. In this course students are expected to learn how to set goals and explore jobs in the community. Some topics in this course includes the following: 
mentorship opportunities

strategies for maintaining well-being in personal and work life

competencies of the educated citizen, employability skills, essential skills, leadership and collaboration skills

represent oneself both personally and publicly

personal networking and employment marketing strategies

ways to contribute to community and society

value of volunteerism for self and community
Computer Studies 10
Develop your students' understanding and proficiency of computers! Students will learn about computer hardware, Von Neumann architecture, peripherals, and maintenance as well as data management and storage options. Learners will trace the history of operating systems and application software while also exploring network systems, administration, and troubleshooting. Finally, students will dive into word processing, spreadsheets, and databases to cement their knowledge of information technology!
Course Highlights
Learn how to interact effectively with computers at work and at home.
Harness the power of word processing, spreadsheets, and databases.
Discover which advanced courses will help you achieve your goals.
Explore IT careers to find out which ones suit your interests and abilities.
Culinary Arts 10
Thinking of a career in the food service industry or looking to develop your culinary skills? This introductory course will provide you with basic cooking and knife skills while preparing you for entry into the culinary world. Discover the history of food culture, food service, and global cuisines while learning about food science principles and preservation. Finally, prepare for your future by building the professional, communication, leadership, and teamwork skills that are crucial to a career in the culinary arts.
Course Highlights
select the best knives and knife cuts for your ingredients
decide which role on the kitchen brigade most interests you
identify the potential safety hazards of working in a fast-paced kitchen
learn what qualities to look for when selecting ingredients to use in your menus
Digital Photography 10
Have you wondered how professional photographers manage to capture that perfect image? Gain a better understanding of photography by exploring camera functions and the elements of composition while putting theory into practice by taking your own spectacular shots! Learn how to display your work for exhibitions and develop skills important for a career as a photographer.
Course Highlights
learn the fundamentals, from taking your first shot to presenting your work and discovering potential careers in digital photography
take still-life, action and portrait photographs using a variety of light sources
understand how to select appropriate lenses
be inspired with profiles of influential photographers, such as Annie Leibovitz (Rolling Stone, Vanity Fair)
Game Design 10
Does your love of video games motivate you to pursue a career in this field? Pursue your passion by learning about the principles of game design through the stages of development, iterative process, critiques, and game development tools. Put these new skills to work by designing your own game!
Course Highlights
develop skills from several disciplines, including design, visual arts, audio arts, and computer programming in order to build a playable game
walk through the activities necessary to build a game with an abundance of screenshots and step-by-step instructions
practice game creation techniques with hands-on activities, such as "Practice Games" and "Game On"
learn about the business side of video games, including ethical decision-making, law and intellectual property, privacy and piracy, marketing, and crowdfunding
Mathematics 10 – Foundations & Pre-Calculus
Prerequisite: Mathematics 9
Preparation for numeracy 10 assessment
The more math you take, the more money you make. This old saying often rings true because a strong foundation in mathematics prepares students for careers in science, technology, and engineering among other important professions. This course covers concepts of algebra, geometry, and the following key mathematical concepts:
operations on powers with integral exponents

prime factorization

functions and relations: connecting data, graphs, and situations 

linear functions: slope and equations of lines

arithmetic sequences

systems of linear equations

multiplication of polynomial expressions

polynomial factoring

primary trigonometric ratios

financial literacy: gross and net pay
Physical and Health Education 10
Prerequisite: Physical and Health Education 9
Graduation Requirement
An appreciation for physical activity will better allow students to understand the connection between the body and mind. PE can enhance our connection to one another through sports and other shared activities. This course encompasses topics in healthy choices influencing physical and emotional well-being. There are required hours of physical activity that need to be logged and monitored in order to receive credits for this course. Some topics included in this course include the following: 
proper technique for movement skills

ways to monitor and adjust physical exertion levels

effects of different types of physical activity on the body

healthy sexual decision making

marketing and advertising tactics aimed at children and youth, including those involving food and supplements

basic principles for responding to emergencies

consequences of bullying, stereotyping, and discrimination

media and social influences related to psychoactive substance use and potentially addictive behaviours

signs and symptoms of stress, anxiety, and depression

influences of physical, emotional, and social changes on identities and relationships
Punjabi 10
In the Punjabi 10 course, students will learn about the relationships between Punjabi letter patterns, pronunciation, and meaning. They will learn how to describe regional, cultural, and linguistic practices, traditions, and attitudes in various Punjabi regions. This course will also teach students how to narrate stories, both orally and in writing. Students will be expected to learn about the following:
Punjabi vocabulary, sentence structures and expressions
Elements of common texts
Past, present, and future time frames
Contributions of Punjabi Canadians to Canadian society.
Science 10
Prerequisite: Science 9
An understanding of scientific principles and theories allows students to better understand our position in the world and our understanding of life. This course provides students with a foundational knowledge in science and scientific methods. Some topics in this course include the following:
DNA structure and function

mutation and its impact on evolution

natural selection and artificial selection

applied genetics and ethical considerations

acid-base chemistry

law of conservation of mass

energy change during chemical reactions

nuclear energy and radiation

transformation of energy

formation of the universe
Web Development 10
How many times per day do you access the internet, including social media? The web is an important part of our daily lives, so it's no surprise that web development is one of the hottest careers. In this course, you'll start to get a real picture of professional web development, including how to create content for the web. You'll learn about topics such as servers, file organization, HTML, CSS, Javascript, and the development stack that will let you build any website you can dream up!
Course Highlights
Create a basic web page with a customized style
Use various CSS styles and HTML tags to construct HTML lists, tables, and a form
Discuss and create basic JavaScript variables and data structures, such as strings, arrays, and objects
Understand emerging trends in web development platforms
Understand and discuss the principles and tools used in web project management
Do you offer summer school courses?
iLearn's summer school program is an expedited version (6-week) of the course with many of the same major tests and assignments. Summer courses mainly focus on the key ideas taught in the curriculum. Most courses are available in a summer school format. Head to our Summer School page for more info.

How do I know which courses to pick to prepare for university?
Grade ten is an important year to have a student education path as the course choices made here can have implications for university admission requirements or other plans after high school. Course selection is up to the student, and iLearn staff are happy to help create an education plan that prepares you for your post-secondary aspirations.
What is the Career Life Education (CLE) course?
Career Life Education is a mandatory course for students that helps prepare them for life after graduation. CLE 10 replaces the previously known Planning 10 course.
Can I take a grade 11 course?
Yes, as long as your current grade's requirements are being met and all prerequisites for the course have been passed, then a student can enroll in a course that is a grade-level higher. 
Will my credits show up on my transcript?
Yes, all your high school credits earned at iLearn will be on your transcript.
How is iLearn different from other online schools?
At iLearn your needs come first. As a student you can expect the support you need to reach your goals. iLearn teachers take pride in providing quality education as they help guide you to build your future. At iLearn you can start your courses anytime, set your own pace and manage your success. You are never left without support, iLearn teachers are highly responsive and can be reached via email or phone when you need help.
Where can I find iLearn's tuition rates?
Please see our Tuition page for the most up-to-date tuition information.
Can I take your online courses and still stay at my existing school?
Yes, students are welcome to cross-enroll with us and either take a couple courses or take all their courses with us as their homeschool.
How do I meet with my teacher?
All meetings with teachers will be held via video conferencing (Zoom and/or Google Meet). Students will be invited to class and/or drop-in sessions via Google Calendar.
Students can sign up for office hours using their teacher's Calendly link, which can be found on their syllabus and in their teacher's email signature. Under normal circumstances, students can meet with their teacher and attend class in person at our brick and mortar location.
Can I rewrite tests?
If students would like to improve their test grade they may write a re-test. Re-tests can be written any time before the final exam or course end date. You will receive an average of the two attempts as your final mark for the test.
When do I get my report card?
Interim report cards will be sent at the point indicated on the course syllabus. Final report cards will be sent within 10 days of course completion.

What happens if I fall behind?
Students set the pace with their teacher at the beginning of the course and check-in with their teacher each week to revise the plan as needed. Once a month, iReports will be emailed to students, parents/guardians, and/or tutors if students are failing, behind schedule, or not meeting student expectations.
When does a course show up on my transcript?
iLearn courses will appear on students' transcripts if they continue with their course beyond the 14-day withdrawal deadline. Students' transcripts will be updated by their home school. To answer any transcript inquiries please email [email protected].
How quickly are assignments and tests marked?
All assignments and tests are marked with feedback in under 7-10 days. In extraordinary circumstances, marking may take a couple additional days. All grades and feedback can be found on the Grades page of the student dashboard.

How to Get Started
First, we need to know if you are eligible for your courses. Eligible students will be emailed with application steps to complete. Once all steps are completed, each student will be invited to an orientation with their teacher.
Eligibility
Submit your eligibility information online.
Application
Follow steps provided in your eligibility email.
Orientation
Meet your teacher and start the course.
Check Eligibility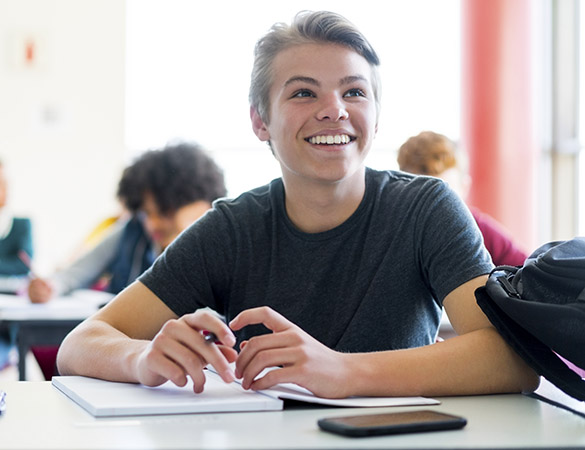 The best students for iLearn would be those who want to learn independently and go the extra mile, not only educating oneself for post-secondary but educating oneself for life. Not all students are ready for independence but for those who attend iLearn will be more prepared for life after graduation. No one in college or university tells you when to sit in class or do work, it's all on you. Thanks to iLearn, I can schedule time and track assignments, which, in university, will pile up if you cannot schedule your time well. Where most find it hard, I was fully prepared to work with my professors and build rapport. iLearn helped me build the skills I needed to tackle bad habits like procrastination.

Saad
Student