Adult Education Overview
We help graduated and non-graduated adults of any age earn either a B.C. Dogwood Diploma or B.C. Adult Dogwood Diploma. The adult diploma is awarded after passing five key high school courses.
Why should I enroll for a BC Adult Dogwood Diploma?
A high school diploma or adult diploma is a fundamental qualification for university applications and for many career options. We help adults get on track for whatever it is they need. Whether you need to upgrade a mark, finish your diploma, get your Adult Dogwood Diploma, or maybe you're just interested in our courses, we are here to understand your situation and make a plan that works for you.
What courses are required to satisfy the B.C. Adult Graduation Diploma (Adult Dogwood)?
Adult students are required to complete a Language Arts 12 (English 12), Math 11 (or 12), and three grade 12 elective courses (of which, one elective could be a Social Studies 11 course).
How much does the adult program cost?
Non-graduated adults with B.C. residency pay $500 per course.
Adults who have already graduated with a B.C. high school diploma and want to take courses pay $1000 per course.
Can credits be counted from post-secondary schools?
Yes. Of the five courses required for the Adult Dogwood, at least three must be completed after the adult student has entered the Adult Graduation Program.
Can my past high school credits be transferred to the Adult Dogwood program?
Students can receive credit toward the Adult Dogwood for no more than two qualifying courses completed while in the B.C. (school-aged) Graduation Program. You cannot receive an Adult Dogwood using only courses completed prior to enrolling in the Adult Graduation Program.
Do I have to write the Numeracy and Literacy Assessments to graduate with an Adult Dogwood?
Adult learners are not required to complete the Graduation Numeracy or Literacy Assessments to graduate with the Adult Dogwood. Adult students should be aware that some post-secondary institutions may require  assessments/examinations for admission purposes.
What if I have conflicts with things outside of school?
Students have the opportunity to put their course on hold under extenuating circumstances. If they are experiencing conflicts or problems outside of school, they should contact their teacher and request to put their course on hold. If students have any questions they should email their teacher, including for: assignments, technical or website issues, marks deadlines or personal issues that might affect course work.
How do I meet with my teacher?
All meetings with teachers will be held via video conferencing (Zoom and/or Google Meet). Students will be invited to class and/or drop-in sessions via Google Calendar.
Students can sign up for office hours using their teacher's Calendly link, which can be found on their syllabus and in their teacher's email signature. Under normal circumstances, students can meet with their teacher and attend class in person at our brick and mortar location.
Do you provide university planning options for adult students?
Our team is prepared to help with education planning to make sure adult students understand the high school requirements needed to be admitted to certain post-secondary programs.
How quickly are assignments and tests marked?
All assignments and tests are marked with feedback in under 7-10 days. In extraordinary circumstances, marking may take a couple additional days. All grades and feedback can be found on the Grades page of the student dashboard.

How to Get Started
First, we need to know if you are eligible for your courses. Eligible students will be emailed with application steps to complete. Once all steps are completed, each student will be invited to an orientation with their teacher.
Eligibility
Submit your eligibility information online.
Application
Follow steps provided in your eligibility email.
Orientation
Meet your teacher and start the course.
Check Eligibility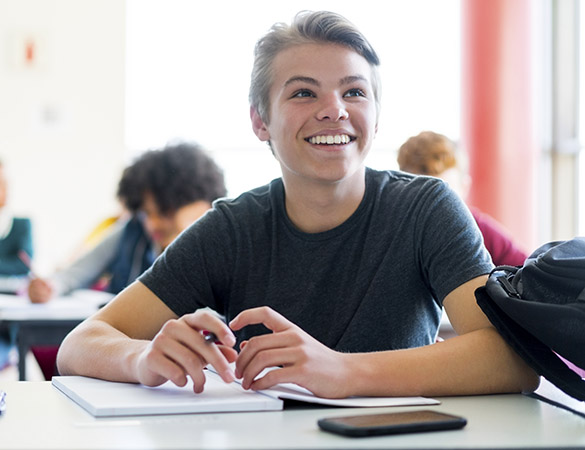 iLearn's program structure allows students to try out far more personal or career opportunities. The structure teaches discipline because all the coursework is all online and it's on you to set a study schedule. I tried other online schools, but iLearn teachers provided so much help through office hours that the experience is entirely different since I completed most of my work on campus with my teacher. iLearn is great if you are a student who does not have much time, or wants to approach school from a different angle with laptops and 1-on-1 learning. You often do not know what you want before college but at iLearn there are countless opportunities to explore.
Zach
Former iLearn Student