Course Upgrades Overview
Academic upgrading is an opportunity to improve your high school marks and get accepted into a post-secondary program or another specialty program. Upgrading a course does have a few requirements:
Students must have achieved 80% or higher in the courses they wish to upgrade
Students must have detailed course information from their prior teacher OR write a challenge exam if course information is not available
What is upgrading?
upgrading high school online is a way to improve your high school marks and get accepted into a post-secondary program or achieve the pre-requisite credits required to enroll in a particular post-secondary program.
How much information from my prior teacher do I need?
Students should have access to the course details provided from the past teacher for the course being upgraded. If the student brings in this information, we can assess the areas to improve and get started immediately. If this information is not provided, we require the student to write a challenge exam.
We need the course breakdown, the assigned for-credit work, and a summary of the grades earned in each major chapter of the course.
How long will a course upgrade take me to complete?
Each course upgrade is a little different. Some students can complete academic upgrading in a few weeks while others take longer. Regardless, the average amount of time to complete an upgrade is one month, and four months are provided.
Can I upgrade a course as an international student?
Yes, internationals students can upgrade their courses, however, a fee of $1000 applies to each course being upgraded.
Can I upgrade a course as an adult student?
Yes, adult students can upgrade a course.
How to Get Started
First, we need to know if you are eligible for your courses. Eligible students will be emailed with application steps to complete. Once all steps are completed, each student will be invited to an orientation with their teacher.
Eligibility
Submit your eligibility information online.
Application
Follow steps provided in your eligibility email.
Orientation
Meet your teacher and start the course.
Apply Now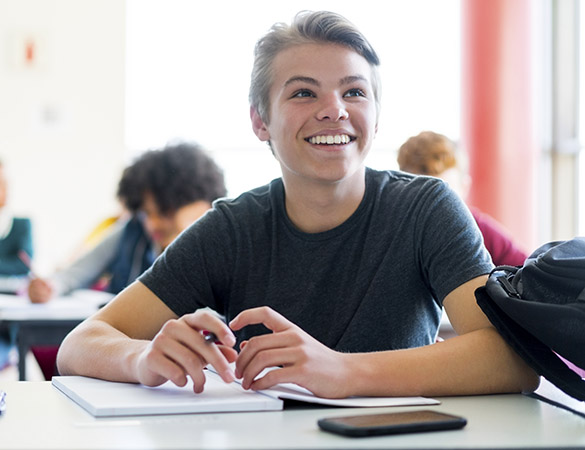 When I started at iLearn I was much more impulsive, anxious, and socially awkward. After iLearn, the exposure to new people and situations with proper mentorship helped me excel. I experienced a very comforting environment with supportive staff members who let students work at their own pace. I left iLearn feeling at ease about my future. By focussing on my strengths, it allowed me to shape the experience and prepare myself for the real world with confidence and a smile.
Asad
Student