Grade 8 Overview
Students build confidence and demonstrate knowledge as we introduce a universal style of online learning. Students study different courses in different classrooms, instructed by a diverse set of teachers. Grade 8 is best experienced with arms wide open.
Courses We Offer
Online curriculum, progressive course options, and a personalized learning plan allows our teachers to focus on a student-centered teaching style. By offering all resources digitally, students have 24/7 access to their educational content.

See Graduation Requirements
Coding 8
Learn all about the technology you use in your day-to-day life as well as explore how the internet functions. Get an introduction to the basics of computer science and discover how to create and build your very own website using HTML and CSS. You'll also become familiar with programming languages like JavaScript and Python.
Course Highlights
Explore how coding can solve problems and bring people together.
Investigate the connections between coding and virtual reality.
Unlock the secrets of coding to create your very own programs.
Learn the language of programming and master complex algorithms.
English 8
A strong understanding of the English language allows us to communicate better and understand one another with more precision, clarity, and creativity. This course exposes students to literature, language, and social culture. Throughout the course, students will complete various grammar and writing exercises to develop composition skills using the following topics: 
exploring stories to understand self 

understanding texts of international peoples' world view

thinking critically about education's role in life
Mathematics 8
The more math you take, the more money you make. This old saying often rings true because a strong foundation in mathematics prepares students for careers in science, technology, and engineering among other important professions. This course covers concepts of algebra, geometry, and the following key mathematical concepts:
ratios, rates, percents & fractions 

linear relationships 

3D object calculations

analyzing data 

Pythagoras theorem 
Science 8
An understanding of scientific principles and theories allows students to better understand our position in the world and our understanding of life. This course provides students with a foundational knowledge in science and scientific methods. Some topics in this course include the following: 
life science

kinetic molecular theory

protons and electrons

plate tectonics 
Digital Learning Strategies 8
The digital world seems to change every day, and touch more of our lives. We use technology to communicate with friends and family, find neverending entertainment options, follow our favorite sports teams and fashion trends, and do our online school work. In Digital Learning Strategies you will get the tools to navigate this exciting and always changing world.
Learn about real-world issues and how to solve real-world problems through interactive and hands-on assignments. Discover what it means to be a responsible digital citizen, expand your digital literacy, and become a successful online student. Consider the best ways to find, create, and share information, learn to maximize information and communication technologies, and explore digital content creation, from emails and blogs to social media, videos, and podcasts.
Course Highlights
develop effective study habits in an online learning environment
explore online media types including videos, blogs, emails, and podcasts
learn techniques to be a successful student in a 21st century classroom
discover what it means to be a responsible digital citizen
Game Design 8
We all love to play video games but have you ever wanted to build your own? If you are interested in a career in technology but also want a creative outlet, Game Design might be the field for you. Learn how to build a game from the ground up in Game Design 8, an interactive and hands-on course that will teach you all the ins and outs of making your own game. You will learn the importance of game structure and discover what makes a game fun, challenging, and interesting to players just like you. You will also have the opportunity to explore the design and creative process involved in game creation, learn block-based programs, and experiment with character and story development. As a bonus, you will leave the course with a digital portfolio of everything you created in class.
Course Highlights
discover the elements that make games so addictive to play
create mini games that show off your skills making sprites, platforms, rewards, feedback, and more
learn how to use Scratch, a block-based programming tool, to design your games
consider what you want people to feel while they play your game
Physical and Health Education 8 (PE 8 Online)
An appreciation for physical activity will better allow students to understand the connection between the body and mind. Physical education can enhance our connection to one another through sports and other shared activities. 
This course emcompasses topics in healthy choices influencing physical and emotional wellbeing. There are required hours of physical activity that need to be logged and monitored in order to receive credits for this course. Some topics included in this course include the following: 
proper technique for movement skills

ways to monitor and adjust physical exertion levels

effects of different types of physical activity on the body

healthy sexual decision making

marketing and advertising tactics aimed at children and youth, including those involving food and supplements

basic principles for responding to emergencies

consequences of bullying, stereotyping, and discrimination

media and social influences related to psychoactive substance use and potentially addictive behaviours

signs and symptoms of stress, anxiety, and depression

influences of physical, emotional, and social changes on identities and relationships
Social Studies 8
Understanding where we came from provides us with perspective on how far society has progressed and the political systems we have developed over time. This course is intended to help students understand the progress of civilization through the ages starting in the 7th century to the year 1750. Topics in the course include the following: 
social, political, and economic systems and structures, including those of at least one indigenous civilization

scientific and technological innovations

philosophical and cultural shifts

interactions and exchanges of resources, ideas, arts, and

culture between and among different civilizations

exploration, expansion, and colonization

changes in population and living standards
Do you offer summer school courses?
iLearn's summer school program is an expedited version (6-week) of the course with many of the same major tests and assignments. Summer courses mainly focus on the key ideas taught in the curriculum. Most courses are available in a summer school format. Head to our Summer School page for more info. 
Can I enroll full-time?
Yes, grade 8 students can enroll in full-time online courses, however, grade 8 and 9 students must sign up before September 30th to avoid any additional fees. Students who wish to take full-time courses after September 30th are advised to speak with our admin staff prior to enrolling.
Will I easily adapt to high school online?
There may be a learning curve as students adapt to creating their own schedules. Courses at iLearn are a little different than other schools. Students who are driven and take ownership in their work find they excel in a digital or blended learning environment as they can learn when they are most attentive and alert.
How long does it take to complete my courses?
Students complete courses at their own pace. Most students take a few months to complete a course, while some have completed their course in a little as one month.
Can I take a grade 9 course?
Yes, as long as your current grade's requirements are being met and all prerequisites for the course have been passed, then a grade eight student can enroll in a course that is one grade-level higher.
Who is welcome to attend iLearn?
iLearn is a school for everyone. Our individualized teaching approach and added flexibility make our school a great place to get ahead, catch up, or try out a new learning style, regardless of your education needs.
Where can I find iLearn's tuition rates?
Please see our Tuition page for the most up-to-date tuition information.
Do students need to know much about technology before enrolling?
If you're unfamiliar with computers, typing, and web browsers, it may take some time to adjust to online courses. Students who need more time to adjust can slow down the pace of the course and those who find it familiar can go a little faster.
Can I take your online courses and still stay at my existing school?
Yes, students are welcome to cross-enroll with us and either take a couple courses or take all their courses with us as their homeschool.
How do I meet with my teacher?
All meetings with teachers will be held via video conferencing (Zoom and/or Google Meet). Students will be invited to class and/or drop-in sessions via Google Calendar.
Students can sign up for office hours using their teacher's Calendly link, which can be found on their syllabus and in their teacher's email signature. Under normal circumstances, students can meet with their teacher and attend class in person at our brick and mortar location.
Can I rewrite tests?
If students would like to improve their test grade they may write a re-test. Re-tests can be written any time before the final exam or course end date. You will receive an average of the two attempts as your final mark for the test.
When do I get my report card?
Interim report cards will be sent at the point indicated on the course syllabus. Final report cards will be sent within 10 days of course completion.

What happens if I fall behind?
Students set the pace with their teacher at the beginning of the course and check-in with their teacher each week to revise the plan as needed. Once a month, iReports will be emailed to students, parents/guardians, and/or tutors if students are failing, behind schedule, or not meeting student expectations.
When does a course show up on my transcript?
iLearn courses will appear on students' transcripts if they continue with their course beyond the 14-day withdrawal deadline. Students' transcripts will be updated by their home school. To answer any transcript inquiries please email [email protected].
Can an elementary school student start taking high school courses with iLearn?
Graduated grade 7 students are welcome to take grade 8 courses as long as their grade 7 requirements have been met.
How quickly are assignments and tests marked?
All assignments and tests are marked with feedback in under 7-10 days. In extraordinary circumstances, marking may take a couple additional days. All grades and feedback can be found on the Grades page of the student dashboard.
How to Get Started
First, we need to know if you are eligible for your courses. Eligible students will be notified to complete an application package. Once all steps are completed, students will be invited to an orientation with their teacher.
Eligibility
Submit your eligibility information online.
Application
Follow steps provided in your eligibility email.
Orientation
Meet your teacher and start the course.
Check Eligibility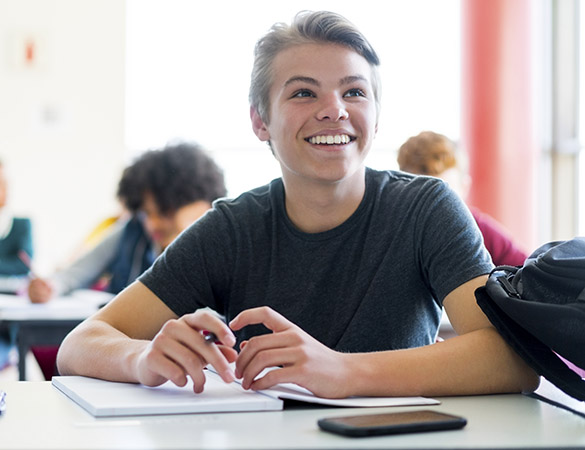 iLearn's program structure allows students to try out far more personal or career opportunities. The structure teaches discipline because all the coursework is all online and it's on you to set a study schedule. I tried other online schools, but iLearn teachers provided so much help through office hours that the experience is entirely different since I completed most of my work on campus with my teacher. iLearn is great if you are a student who does not have much time, or wants to approach school from a different angle with laptops and 1-on-1 learning. You often do not know what you want before college but at iLearn there are countless opportunities to explore.
Zach
Student