Grade 11 Overview
Students get really excited when they enter Grade 11 as they are granted four electives where course options are truly endless. It is important to try new things, and push oneself because this grade is only part one of a two part series in becoming an adult. Grade 11 is about embracing ownership in a path and making connections that are relevant for personal aspirations.
Courses We Offer
Online curriculum, progressive course options, and a personalized learning plan allows our teachers to focus on a student-centered teaching style. By offering all resources digitally, students have 24/7 access to their educational content.

See Graduation Requirements
Active Living 11
Prerequisite: Physical Education 10
An appreciation for physical activity will better allow students to understand the connection between the body and mind. Physical education can enhance our connection to one another through sports and other shared activities. This course emcompasses topics in healthy choices influencing physical and emotional wellbeing. There are required hours of physical activity that need to be logged and monitored in order to receive credits for this course. Some topics included in this course include the following: 
the role of nutrition and how it can affect one's health and performance

potential short- and long-term consequences of health decisions

benefits of physical activities for health and mental well-being

physical activity safety and etiquette

injury prevention and management

proper physical movement patterns, including non-locomotor, locomotor, and manipulative skills

ways to monitor and adjust physical exertion levels

rules and guidelines for different types of sports and activities

potential barriers to participation
Bhangra 11
Prerequisite: Bhangra 10
In Bhangra 11, students will dive deeper into the history of Bhangra and examine how individual and cultural expression is rooted in history, culture, and community. Students will focus on the traditional Bhangra movements, charisma techniques, and facial expressions. The in-depth, hands-on approach of the course supports skill development and cultural understanding, while encouraging creative methods of learning, expression, presentation, and research. Students will be expected to:
Explore their unique identity through dance
Examine how individual and cultural expression is rooted in history, culture, and community
Learn that traditions, perspectives, worldviews, and stories are shared through aesthetic experiences
Express personal experiences, cultural identity, and perspectives through dance
Chemistry 11
Prerequisite: Science 10 and Math 10
An understanding of scientific principles and theories allows students to better understand our position in the world and our understanding of life. This course provides students with concepts in chemistry and chemical reactions. Some topics in this course include the following: 
quantum mechanical model and electron configuration

valence electrons and Lewis structures

chemical bonding based on electronegativity

bonds/forces

organic compounds

applications of organic chemistry

the mole

dimensional analysis

reactions

stoichiometric calculations using significant figures

local and other chemical processes

green chemistry

solubility of molecular and ionic compounds

stoichiometric calculations in aqueous solutions

analysis techniques
Culinary Arts 11
Did you know that baking is considered a science? Building on the prior prerequisite course, discover how to elevate your culinary skills through the creation of stocks, soups, sauces, and learn baking techniques. Examine sustainable food practices and the benefits of nutrition while maintaining taste, plating, and presentation to truly wow your guests. The last unit in this course explores careers in the culinary arts for ways to channel your newfound passion!
Course Highlights
identify ways you can make your menu healthier and more sustainable
explain how baking processes and ingredients work together to form magical desserts
explore food service trends and identify which ones spark your interest
meet your career goals by writing a solid personal career plan
Computer Science 11
Prerequisite:  Any math 10
Have you ever wanted to create your own web page or wondered how your favorite websites were built? Maybe you want to know more about how computers and technology are affecting the world around us. In Coding 11: Introduction to Programming, you will explore the role technology plays in our lives as well as study the fundamentals of computer science, review hardware and software, and learn how the internet functions. You will also discover how to create and build your own website using HTML and CSS and learn basic and complex commands and sequences as you become familiar with programming languages like JavaScript and Python Programming. This course also covers data collection methods, access rights, protocols, and security.
Course Highlights
learn how to code simple programs in Python
work collaboratively with your peers to build and test your code
explore career paths in the growing field of computer science
investigate the impact that digital technology has on our modern life
Creative Writing 11
For many hundreds of years, literature has been one of the most important human art forms. It allows us to give voice to our emotions, create imaginary worlds, express ideas, and escape the confines of material reality. Through creative writing, we can come to better understand ourselves and our world. This course can provide you with a solid grounding in the writing process, from finding inspiration to building a basic story. Then, when you are ready to go beyond the basics, learn more complicated literary techniques to create strange hybrid forms of poetry and prose. By the end of this course, you can better discover your creative thoughts and turn those ideas into fully realized pieces of creative writing.
Course Highlights
develop your one-of-a-kind writer's voice
create three-dimensional characters that jump off the page
transport your readers to places they've never seen
Dhol 11
Prerequisite: Dhol 10
Dhol continues to gain popularity in mainstream culture, and this course will provide a deeper understanding of its history, tradition, and particular techniques. Students will create and present their own songs while exploring the relationships between the arts, culture, and society. Dhol 11 students will be expected to:
Develop and refine technical and expressive skills
Reflect on personal rehearsal and performance experiences and musical growth
Analyze styles of music to inform musical decisions
Express personal voice, cultural identity, and perspective through music
Digital Photography 11
Prerequisite: Digital Photography 10
Building on the prior prerequisite course, further develop your photography skills by learning more professional tips, tricks, and techniques to elevate your images. Explore various photographic styles, themes, genres, and artistic approaches. Learn more about photojournalism and how to bring you photos to life. Using this knowledge, build a portfolio of your work to pursue a career in this field!
Course Highlights
examine and research career opportunities in the art world
work towards creating a portfolio of your creations
collaborate on art projects
perform image post-processing
Forensics 11
Every time a crime is committed, a virtual trail of incriminating evidence is left behind just waiting to be found and analyzed. In Forensic Science 11: More Secrets of the Dead, you'll learn even more about the powerful science of forensics and how it has changed the face of crime and justice in our world. You will learn some basic scientific principles used in the lab, such as toxicology, material analysis, microscopy, and forensic anthropology and find out how scientists use everything from insects to bones to help them solve crimes. Discover how advanced techniques and methodical processes can lead to catching even the craftiest criminal. The best way to battle crime these days is not with a weapon, but with science.
Course Highlights
explore how bones and bugs help solve crimes
examine some of the forensic science laboratory techniques for identifying and testing drug evidence and toxin
investigate how paint, soil, and trace evidence is found and analyzed
analyze newer trends in forensic science, including the investigation of digital crime
History of Punjab 11
Prerequisite: Social Studies 10
This course is an introduction to the history of Punjab. This class explores the history of the Punjab through traditional text-based methods and oral history collection. In the class, students have the opportunity to explore Punjabi history and experiences with a focus on family, community, and regional histories. The course will cover the following periods:
Early History
Ancient Period (Alexander's invasion)
Medieval Period (Arab conquests)
Early Modern Period (Mughal empire)
Journalism 11
Prerequisite: Journalism 10 and English 10
Does your curiosity lead you to the heart of the matter? Channel this curiosity into developing strong writing, critical thinking, and research skills to perform interviews and write influential pieces, such as articles and blog posts. Learn about the evolution of journalism and its ethics, bias, and career directions to forge your path in this field.
Literary Studies 11
Pre-requisite: English 10
Imagination helps us perceive truth, make value judgments, and deal with life's complexities in creative ways. Students in this course pick one of three options: Gothic Literature, The Lord of the Rings, or Mythology and Folklore. If you are interested in multiple options, you may take one additional topic as a grade 12 elective.
Mathematics 11 – Foundations
Prerequisite: Foundations of Math & Pre-Calculus 10
This course covers concepts of proportional relationships that can be described, measured, and compared. Student will learn the following key mathematical concepts in this course:
forms of mathematical reasoning

angle relationships

graphical analysis:

linear inequalities

quadratic functions

systems of equations

optimization

applications of statistics

scale models

financial literacy: compound interest, investments and loans
Mathematics 11 – Workplace Mathematics
Prerequisite: Any Math 10
How mathematics informs life decisions and financial decision making. This course has a focus on 3D models and relationships including the following:
financial literacy: personal investments, loans, and budgeting

rate of change

how probability and statistics are used in different contexts

interpreting graphs in society

3D objects: angles, views, and scale diagrams
Medical Terminology 11
Learn the language of Medical Terminology to provide the best care possible for your patients. In this course, you will join word parts to form medical terms, associations within body systems, and better communicate with colleagues and patients. Build your proficiency and confidence with this course and prepare yourself for a career in health sciences.
Course Highlights
Explore the unique terms and abbreviations of the medical world and become an effective member of the healthcare team
Investigate the fascinating and complex parts that make up the human body
Become the professional who can help patients understand what they need to know
Physics 11
Prerequisite: Science 10 & Math 10
Only available in Digital Learning (DL) format.
Physics is the study of nature and properties of matter and energy and has a strong mathematics component for making calculations in the following areas:
projectile motion

motion, mass, force of gravity, and apparent weight

Newton's laws of motion and free-body diagrams

balanced and unbalanced forces in systems

conservation of energy; principle of work and energy

power and efficiency

simple machines and mechanical advantage

applications of simple machines by First Peoples

electric circuits (DC), Ohm's law, and Kirchhoff's laws

thermal equilibrium and specific heat capacity

properties and behaviours of waves

characteristics of sound
Programming 11
Have you ever wondered how your favorite software is created? Explore the software development life cycle from start to finish while developing your own programming skills with Python. Explore the power of data and algorithms along with their influence upon the world. Launch yourself into the endless possibilities a career as a programmer can bring you!
Course Highlights
Learn about different programming languages and the environment that they are used
Develop algorithms designed to be run on a computer
Discover how to use programming to solve real-world problems
Investigate job opportunities in the programming field
Punjabi 11
Prerequisite: Punjabi 10
Students delve deep into the language and culture in Punjabi 11. Students will be expected to Exchange ideas and information, both orally and in writing. They will discuss and analyze personal, shared, and others' experiences, perspectives, and worldviews through a cultural lens. Students will learn increasingly complex vocabulary, sentence structures, and expressions, including:
Complex questions
Sequence of events in stories
A diverse range of personal experiences
Explanation and justification of opinions
Points of view
Social Problems 11: A World in Crisis
War, crime, poverty, global warming our world often seems full of dire warnings and predictions. How can we make sense of it all and still dare to step outside each day? Social Problems 11: A World in Crisis will explore some of the biggest challenges facing our world today and prepare you to tackle them head-on. You'll learn what led to these social problems, what effects they have on our lives and societies, and what possible solutions exist for solving them. Whether you want to save the world from the next pandemic or better understand the effects of the media on society, this course will help you develop a plan of action!
Course Highlights
investigate social problems in society, such as poverty
examine the effects of conflict, war, and terrorism on nations, societies, and individuals
explore the impact of crime on our lives and communities
consider why some issues become social problems and others do not
Spoken Language 11
Prerequisite: English 10
Gain more confidence speaking in front of people and bring your speeches to life by learning about body language, vocal, and other techniques. Gain the confidence to help create and deliver great speeches. You will critically examine your speeches and presentations in this course to improve your presentation skills.
Anthropology 11
What makes us human? Is it our ability to use language? Is it our abstract thinking skills or our use of tools and technology? In Anthropology 11: Uncovering Human Mysteries you will trace the history of homo sapiens and explore our evolutionary trail. This course offers an anthropologic lens to observe our movement from cave dweller to modern human. It sheds light on how we forged our way and developed all of the things that make us human, such as our cultures, languages, and religions. We, as humans in the 21st century, are highly intelligent, innovative people with astounding technological ability – how did we get this way?
Course Highlights
trace the evolution and development of humans throughout history
examine cultural practices from around the globe
explore the relationships between people and their environments
investigate how materials, culture, food, and religion influence our lives
Biotechnology 11
Did you know that the field of biotechnology encompasses everything from plant and animal breeding to genetics? Discover how biotechnology has changed the world around us from food to genetics. Build on historical applications with modern discoveries. Understand how regulations and ethics govern the course of biotechnology and learn of its importance to the field of medicine. Increase your understanding of this cutting-edge field!
Composition 11
Prerequisite: English 10
A strong understanding of the English language allows us to communicate better and understand one another with more precision, clarity, and creativity. In this course students refine, clarify, and adjust their written communication through practice and revision. Students will be required to complete the following:
read and study compositions by other writers and be exposed to a variety of styles as models

study, create, and write original and authentic pieces for a range of purposes

expand their competencies through processes of drafting, reflecting, and revising to build a body of work

cite sources, consider the credibility of evidence, and evaluate the quality and reliability of the source
The following are possible areas of focus within Composition 11:
narrative, expository, descriptive, persuasive, and opinion pieces

planning, drafting, and editing processes

writing for specific audiences and specific disciplines
Cosmetology 11
Prerequisite: Cosmetology 10
Helping people put their best face forward is a growing, vibrant industry which needs skilled and personable professionals well-versed in the latest trends and technological advances. In Cosmetology 11: The Business of Skin and Nail Care, experience what the day-to-day life of a cosmetologist is like. You will discover that cosmetology is much more than knowing and applying techniques. Additionally, you will explore skin care and facials, learn how to give manicures and pedicures and how to apply artificial nails, and gain an understanding of different hair removal techniques. Discover the next steps towards launching a rewarding and creative career in cosmetology.
Course Highlights
explore various types of nail art, from basic manicures and pedicures to artificial nails and décor
learn to pamper your client's face by offering facials and personalized makeup application services that are perfect for your client's skin type and face shape
investigate facial hair removal techniques meet your clients' needs
develop professional skills in cosmetology including finding post-secondary education opportunities, networking, and even starting your own business
Computer and Information Systems 11
Master important tips for keeping data safe on your devices and on the Internet. Building on prior skills, you will gain further knowledge on webpage design and creating graphics. You will also explore security and cybercrime, emerging technologies, presentation software, and intellectual property laws.
Course Highlights
Learn advanced design skills that will make your webpages and presentations really pop.
Enhance your soft skills to resolve conflicts with coworkers.
Use your computer skills to make a positive impact in your community.
Cybersecurity 11
We depend more and more on the technologies we interact with every day, and we put more and more of our personal data out there online. Can all of that data really be kept "secret"? We all need to know more about how to protect our personal information, especially given how much we rely on and use our network devices and media. You'll learn about the various parts of your computer, how they work together, and how you can manipulate them to keep your data safe. You'll also dive into the tools, technologies, and methods that will help protect you from an attack and discover the many opportunities in the rapidly growing field of cybersecurity.
Course Highlights
learn more about who's online when you are
investigate what makes your devices run safely
evaluate how safe your information is on the internet
anticipate challenges to your cybersecurity
Digital Media Fundamentals 11
Discover your talent for building digital media applications using text, graphics, animations, sounds, and videos. This course will teach about videography fundamentals and the other elements that make impressive media, such as typography, color theory, design, and manipulation.
Explorations in Social Studies 11
Prerequisite: Social Studies 10
Understanding where we came from provides us with perspective on how far society has progressed and the political systems we have developed over time.Explorations in Social Studies 11 is designed to provide flexibility for teachers and students while ensuring that the rigorous provincial curriculum standards are met. Topics in the course may include the following (3 topics required): 
social, cultural, or technological innovations and developments in the 20th century

colonialism and contemporary issues for indigenous people in Canada and around the world

current issues in local, regional, national, or global politics as represented in mass media

natural resource use and local, regional, national, or global development

economic development in Asia

systems of power and governance in global cultures

diversity of B.C. First Peoples territories and communities

methods used by individuals, groups, and organizations to promote social justice

fundamental nature of knowledge, existence, and reality

sacred texts, traditions, and narratives of cultures

recognition of and responses to genocide

global issues in urbanization

contemporary theories of money and investment
Game Design 11
Prerequisite: Game Design 10
Do you enjoy playing video games or coding? Does the idea of creating and designing your own virtual world excite you? If so, this is the course for you! Tap into your creative and technical skills as you learn about the many aspects involved with designing video games. You will learn about video game software and hardware, various gaming platforms, necessary technical skills, troubleshooting and internet safety techniques, and even the history of gaming. And to top it all off, you'll even learn the skills needed to conceptualize, design, and fully create your very own video game.
Learning Objectives
research, compare, and categorize different game platforms and game hardware
strategically plan and build your own video game
learn about game storylines, player progression, and algorithmic decision making.
learn to analyze player goals, actions, rewards, and challenges, among many other game play components.
Hospitality and Tourism 11
If you love working with people, a future in hospitality may be for you. In this part of Hospitality and Tourism 11: Hotel and Restaurant Management, you will learn about what makes the hotel and restaurant industries unique. Learn about large and small restaurants, boutique and resort hotels, and their day-to-day operations. Evaluate the environment for these businesses by examining their customers and their competition. As well, you will discover trends and technological advances that makes each industry exciting and innovative. In this part, you can explore a variety of interesting job options from Front Desk and Concierge services to Maître'd and food service.
Course Highlights
learn about front of the house and back of the house restaurant operations
explore the growth of tourism and its impact on hospitality and tourism
learn about the interpersonal skills needed to excel in a hospitality role
learn why international travel is such an important part of the industry
learn about front of the house and back of the house restaurant operations
Life Sciences 11
Prerequisite: Science 10
The study of small things often leads to big conclusions. Understanding our bodies from the cellular perspective allows us to explore the interactions of certain cells in different environments. Students are expected to be taught the following:
cell structure and function

sexual and asexual reproduction

energy transformations in cells

viruses

First Peoples understandings of interrelationships between organisms adaptation to changing environments

changes in DNA

natural selection

artificial selection and genetic modifications

single-celled and multi-celled organisms
Marketing Foundations 11
Introduce your students to the fast-paced and exciting world of marketing! Students will learn about the role of marketing in business in addition to the basics of business management, customer service, and economics. Furthermore, students will examine how to identify target markets, perform market research, and develop successful marketing strategies. Finally, the legal and ethical considerations of business and marketing are discussed along with the impact of government on business.
Course Highlights
explore the dynamic and interrelated components of marketing
learn how successful marketing involves time-tested techniques and fresh ideas
examine the role of ethics in the business of marketing
investigate the ways that the best companies approach marketing
Mathematics 11 – Pre-Calculus
Prerequisite: 73% or above in Foundations of Math & Pre-Calculus 10
The more math you take, the more money you make. This old saying often rings true because a strong foundation in mathematics prepares students for careers in science, technology, and engineering among other important professions. This course is a continuation of the pre-calculus course where students build on the connections between operations, powers, radicals, and polynomials. This mathematics course covers the following areas:
powers with rational exponents

radical operations and equations

polynomial factoring

rational expressions and equations

quadratic functions and equations

linear and quadratic inequalities

trigonometry: non-right triangles and angles in standard position

financial literacy: compound interest, investments, loans
Medical Diagnostic Technology 11
Describe the skills used by laboratory, radiology, respiratory, and cardiology professionals. In this course, you will learn Learn about different diagnostic technology used and essential body systems and fluids that need to be understood to make an accurate diagnosis of a disease, condition, or illness.
Personal Fitness 11
What does being fit really mean? Is it just based on physical appearance or is it something deeper? Though we strive to be healthy and make sensible choices, it's difficult to know how to achieve this. It's not only about losing weight or lifting a heavy barbell; in Personal Fitness you will learn about body functions, safety, diet, goals, and strategies for longevity. Human beings, in both body and mind, are complex and highly sensitive organisms that need the right attention to physically excel and feel great. Being fit is about living life to the fullest and making the most of what you have yourself! Explore the world of healthy living and see how real fitness can be achieved through intention, effort, and just the right amount of knowledge.
Course Highlights
give your body the energy it needs to achieve your goals
explore the range of fitness activities to find those that are best for you
tailor your fitness plan for your success
discover how your body systems contribute to your fitness
Principles of Business Marketing and Finance 11
This course provides students with fundamental knowledge that will help them pursue a career in business! Students will explore different types of businesses and ownership forms, the impact of governments on business, and the marketing of goods and services. Students will also be expected to learn about globalization, free trade, and various economic systems. Finally, the impact of technology on business, business ethics, and social responsibility are discussed, providing students with a foundational knowledge of business.
Course Highlights
explore how innovative companies generate continuing interest and buzz around their products and services
learn about the many links that connect raw materials to finished products in a supply chain
investigate how products that were once considered innovative can fall to advances in technology
critique the benefits and drawbacks of growing global trade and globalization
Psychology 11
Have you ever wondered why you do the things you do? Have you asked yourself if self-knowledge is the key to self-improvement? Are you interested in how behavior changes as we age? Psychology can give you the answers! In Personal Psychology 11: The Road to Self-Discovery, you will trace the development of personality and behavior from infancy through adulthood. You will come to learn more about perception and consciousness and better understand the role of sensation. Are you ready to explore the world of human behavior? Come explore all that psychology can offer to help you to truly understand the human experience.
Course Highlights
learn more about the ways that we think, act, and believe as humans
explore the life course and what happens at different stages of our lives, from infants to the elderly
travel around the human brain to see what influences our perceptions and sensations
investigate what happens when we sleep and dream
Social Media 11
Have a Facebook account? What about Twitter? TikTok? Whether you've already dipped your toes in the waters of social media or are still standing on the shore wondering what to make of it all, learning how to interact on social media platforms is crucial to surviving and thriving in this age of digital communication. In Introduction to Social Media 11, you'll learn the ins and outs of such social media platforms as Facebook, Twitter, Pinterest, Google+, and more and how to use them for your benefit personally, academically, and, eventually, professionally. If you thought social media platforms were just a place to keep track of friends and share personal photos, this course will show you how to use these resources in much more powerful ways.
Course Highlights
discover why status updates and tweets have become so popular and what they can do for you
learn about the impact social media has on our society
take your messages and selfies to the next level with photo-based social media sites
use social media to launch a fresh image for your business and attract new customers
Sociology 11
Human beings are complex creatures; however, when they interact and begin to form relationships and societies, things become even more complicated. Are we more likely to act differently in a group than we will when we're alone? How do we learn how to be "human"? Sometimes it can feel as if there are more questions than answers. Sociology 11: The Study of Human Relationships seeks to answer these questions and many more as it explores culture, group behavior, and societal institutions and how they affect human behavior. You'll learn how social beliefs form and how this shapes our lives. How does this happen? Join us and find out!
Course Highlights
explore the patterns and relationships that connect individuals to society
investigate class, gender, race, and the effects that inequality can have on individuals and society
examine the influence of culture on our lives
Theatre, Cinema, & Film Production 11
Lights! Camera! Action! Let's explore the enchanting world of live theater and its fascinating relationship to the silver screen. In Theater, Cinema, and Film Production 11, you'll learn the basics of lighting, sound, wardrobe, and camerawork while examining the magic that happens behind all the drama. Delve into the glamorous history of film and theater, and examine the tremendous influence these industries have had on society and culture over the years. During this unit, you'll discuss and analyze three classic American films "Casablanca, Singing in the Rain, and The Wizard of Oz" to help you learn how to critique and appreciate some of the most famous dramas of all time.
Course Highlights
learn the basics of theater, cinema, and film productions
travel the Yellow Brick Road with The Wizard of Oz to see how film and theater productions use wardrobe and scenery
explore how musicals like Singin' in the Rain create and use sound
investigate how films like Casablanca use lighting, camera work, and plot to create mood and emotion
Do you offer summer school courses?
iLearn's summer school program is an expedited version (6-week) of the course with many of the same major tests and assignments. Summer courses mainly focus on the key ideas taught in the curriculum. Most courses are available in a summer school format. Head to our Summer School page for more info.

Can I take Grade 12 courses?
Yes, as long as all prerequisites for the course have been met, then the student can enroll in a higher grade-level course.
How do I share my transcript with universities?
For students to share their B.C. high school transcript with a university, the student needs to create a BCeID. A link to BCeID can be found here.
Where can I find iLearn's tuition rates?
Please see our Tuition page for the most up-to-date tuition information.
Can I take your online courses and still stay at my existing school?
Yes, students are welcome to cross-enroll with us and either take a couple courses or take all their courses with us as their homeschool.
How do I meet with my teacher?
All meetings with teachers will be held via video conferencing (Zoom and/or Google Meet). Students will be invited to class and/or drop-in sessions via Google Calendar.
Students can sign up for office hours using their teacher's Calendly link, which can be found on their syllabus and in their teacher's email signature. Under normal circumstances, students can meet with their teacher and attend class in person at our brick and mortar location.
Can I rewrite tests?
If students would like to improve their test grade they may write a re-test. Re-tests can be written any time before the final exam or course end date. You will receive an average of the two attempts as your final mark for the test.
When do I get my report card?
Interim report cards will be sent at the point indicated on the course syllabus. Final report cards will be sent within 10 days of course completion.

What happens if I fall behind?
Students set the pace with their teacher at the beginning of the course and check-in with their teacher each week to revise the plan as needed. Once a month, iReports will be emailed to students, parents/guardians, and/or tutors if students are failing, behind schedule, or not meeting student expectations.
When does a course show up on my transcript?
iLearn courses will appear on students' transcripts if they continue with their course beyond the 14-day withdrawal deadline. Students' transcripts will be updated by their home school. To answer any transcript inquiries please email [email protected].
Do you provide any university planning options for students?
Our team is prepared to help with education planning to make sure students understand the high school requirements needed to be admitted to certain post-secondary programs.
How quickly are assignments and tests marked?
All assignments and tests are marked with feedback in under 7-10 days. In extraordinary circumstances, marking may take a couple additional days. All grades and feedback can be found on the Grades page of the student dashboard.

How to Get Started
First, we need to know if you are eligible for your courses. Eligible students will be emailed with application steps to complete. Once all steps are completed, each student will be invited to an orientation with their teacher.
Eligibility
Submit your eligibility information online.
Application
Follow steps provided in your eligibility email.
Orientation
Meet your teacher and start the course.
Check Eligibility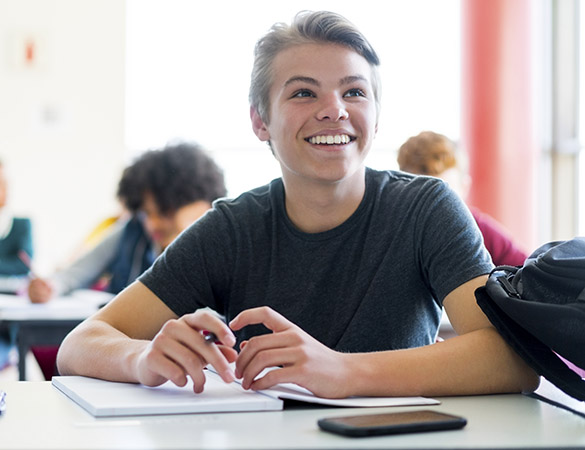 iLearn's program structure allows students to try out far more personal or career opportunities. The structure teaches discipline because all the coursework is all online and it's on you to set a study schedule. I tried other online schools, but iLearn teachers provided so much help through office hours that the experience is entirely different since I completed most of my work on campus with my teacher. iLearn is great if you are a student who does not have much time, or wants to approach school from a different angle with laptops and 1-on-1 learning. You often do not know what you want before college but at iLearn there are countless opportunities to explore.
Zach
Student