ELL Courses Overview
English Language Learner courses are offered at five distinct levels:
Beginning – the student is in the beginning stages of language development,
Developing – the student is showing progress in developing their language skills,
Expanding – the student is expanding in their language development to further access classroom learning outcomes,
Consolidating – the student is consolidating their language skills in the academic environment, and
Bridging – the student is bridging to the grade-level language proficiency of their peers.
Courses We Offer
ELL courses are approximately 100 hours long covering the 4 language skills: reading, writing, listening and speaking. Each course has a timed practice exam and final exam to demonstrate understanding at each level. Tests have been designed based on IELTS language objectives including a written piece and an oral interview that are marked by a certified ELL teacher.
ELL Level 1 - Beginning
Beginner
This level is designed for those with limited exposure to English. Students at this level will only use and recognize some common words.
ELL Level 3 - Expanding
Upper Intermediate
This level is designed for those with an understanding of everyday conversations. Students at ELL level 3 will have the ability to communicate on familiar topics, read, and write with a limited range of vocabulary.
ELL Level 5 - Bridging
Expert
This level demonstrates a strong understanding of English vocabulary. Students at ELL level 5 are able to read complicated articles, write with few grammatical errors, and communicate in English fluently.
ELL Level 2 - Developing
Lower Intermediate
This level is designed for those with simple usage of everyday phrases. Students at ELL level 2 have a basic understanding of sentence structure and understand simple instructions and messages.
ELL Level 4 - Consolidating
Advanced
This level is for those who can clearly express themselves in English. Students at ELL level 4 will comprehend English text, use proper grammar, and can write in complete sentences with minimal difficulty.
What level of english is required to enroll in ELL Courses?
Basic rudimentary English skills are needed to start an assessment at ELL level 1. From there the student can be placed into the ELL program best fit for the student's current English understanding.
How long will each ELL level take me to complete?
Each ELL course is approx 100 hours long. Some students can complete the course in one month, however four months are provided to complete the course.
Is there a final exam?
Yes there is a final exam for each level of ELL. Practice exams are provided to help prepare for each level of exam.
What grade-level of English will I be able to enroll in once I complete ELL level 5?
Students who complete ELL level 5 will be applicable to enroll in English 10.
How are courses offered?
ELL courses are available in both Blended Learning (BL) or Digital Learning (DL) environments.
Are any books required to take ELL Courses?
No additional material is needed. All content is available online. 
Can I enroll in ELL from abroad?
Yes, internationals abroad can enroll in ELL, however all exams must be completed at an iLearn campus.
How do I meet with my teacher?
All meetings with teachers will be held via video conferencing (Zoom and/or Google Meet). Students will be invited to class and/or drop-in sessions via Google Calendar.
Students can sign up for office hours using their teacher's Calendly link, which can be found on their syllabus and in their teacher's email signature. Under normal circumstances, students can meet with their teacher and attend class in person at our brick and mortar location.
How much 1-on-1 time is offered for students?
Each teacher follows a slightly different policy. For most students, interactions are limited to:
• 30-minute scheduled 1-on-1 sessions at one per week per student
• Routine office hour blocks for drop-in questions and help
• Ad-hoc meetings as needed and as time permits

How quickly are assignments and tests marked?
All assignments and tests are marked with feedback in under 7-10 days. In extraordinary circumstances, marking may take a couple additional days. All grades and feedback can be found on the Grades page of the student dashboard.

How to Get Started
First, we need to know if you are eligible for your courses. Eligible students will be emailed with application steps to complete. Once all steps are completed, each student will be invited to an orientation with their teacher.
Eligibility
Submit your eligibility information online.
Application
Follow steps provided in your eligibility email.
Orientation
Meet your teacher and start the course.
Check Eligibility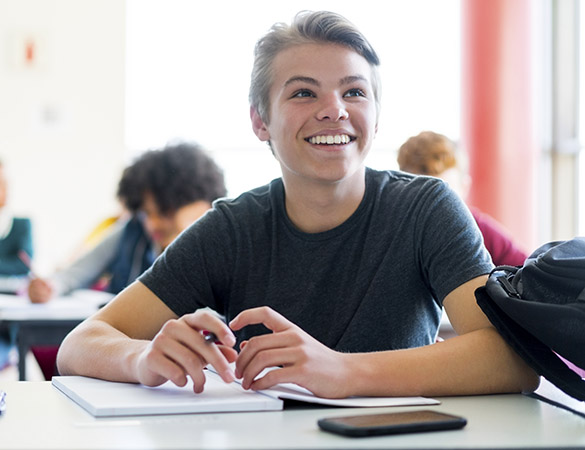 When I started at iLearn I was much more impulsive, anxious, and socially awkward. After iLearn, the exposure to new people and situations with proper mentorship helped me excel. I experienced a very comforting environment with supportive staff members who let students work at their own pace. I left iLearn feeling at ease about my future. By focussing on my strengths, it allowed me to shape the experience and prepare myself for the real world with confidence and a smile.
Asad
Student