Revolutionizing Online Learning
iLearn Secondary School is a Canadian B.C. Ministry of Education certified high school. Our courses are delivered by blending face-to-face and online learning. iLearn is a high school for everyone. Whether you want to get ahead, catch-up, pursue a passion, or you just moved here from another country, iLearn will provide you with a personalized high school education and a B.C. Dogwood Diploma.
Our Approach
Individuality is the solution, not the problem.
We believe there is no one-size-fits-all approach. We use distributed learning and a personalized education plan so students develop valuable life skills such as critical thinking, self-advocacy, and responsibility. The life skills acquired at iLearn will improve many aspects of life both academically and beyond the curriculum.
Life at iLearn
Students should be free to write their own future.
At iLearn students experience education on demand. We understand the importance of freedom and flexibility while learning. We ensure families are in control by wrapping the BC curriculum around each student and their family. We shape education around the values, preferences, and schedules of each student so they can pursue personal and academic goals.
Accreditation
We have annual internal and external evaluations as well as audits conducted by the B.C. Ministry of Education. iLearn is a fully accredited B.C. high school that operates under the Independent Schools Act. All teachers at iLearn are B.C. Certified Teachers and all graduating students are awarded a high school diploma.
B.C. Ministry of Education

The purpose of the British Columbia school system is to enable the public school, independent school and home-schooled children enrolled each school year, to develop their individual potential and to acquire the knowledge, skills and abilities needed to contribute to a healthy society and a prosperous and sustainable economy.

FISA BC

The Federation of Independent School Associations in BC (FISA BC) is a voluntary association of all major independent school groups in the province of British Columbia. FISA BC represents 307 schools enrolling approximately 94% of the students attending independent schools. FISA advocates for parental choice, recognition and funding; supports Independent School Associations in their pursuit of excellence; strengthens educational practice; and contributes to the public good.
Recent News
Follow the iLearn blog for course updates, education tips, and more.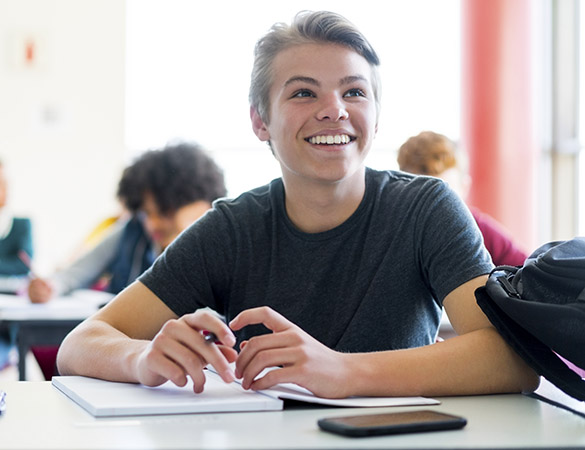 The best students for iLearn are those who can learn independently. Not all students are ready for independence but those who attend iLearn will be more prepared for life after graduation. No one in college or university tells you when to sit in class or do work, it's all on you. Thanks to iLearn, I can schedule time and track assignments, which will pile up if you cannot schedule your time well. Where most find it hard, I was fully prepared to work with my professors and build rapport. iLearn also helped me build the skills I needed to tackle bad habits like procrastination.
Saad Shoaib
Former iLearn Student